Sheraton Moriah Tel-Aviv


Please click HERE for on-line reservations

Rooms
Each of our 357 tastefully furnished guest rooms and suites has a balcony with a magnificent view of the Mediterranean Beach and Sea below. Every room has interactive TV, in-house video, direct dial telephone, voice mail, a fully-stocked refreshment bar, private safe, hair dryer, and all the luxury amenities you would expect in a luxury hotel. Room service is a available 24 hours a day. There are non-smoking floors, as well as special guest rooms for the physically challenged.
Food & Entertainment
A variety of food and entertainment facilities await you at the Sheraton Moriah Hotel Tel Aviv. The Yarden Dining Room overlooks the beach and offers Israeli and International cuisine, including an enormous choice of fresh food at our famous Israeli breakfast buffet. The Patisserie, a popular venue where bust executives can enjoy a Power Breakfast, also offers valet parking. Business guests can enjoy a continental breakfast in the Royal Lounge. The Canaan Restaurant offers an Israeli cuisine based on the country's unique blend of ethnic culinary influences. There is a Lobby Lounge, Lobby Bar and Terrace where guests can relax with a drink and chat with friends. Every evening there is live music in the lobby.
Business Facilities
Business travelers seeking comfort and luxury can choose Business Class Rooms, Royal Class Rooms and A Class. All the rooms on the 8 Executive Floors have work areas and computer hook-up capability. Executive Floor guests will enjoy priority reservations, early check-in and late check-out, a daily newspaper, and exclusive use of the elegant Royal Lounge on the 17th floor, with its fabulous view of the Tel Aviv seafront and its full business facilities. Snacks and drinks are served here throughout the day.
Relaxation
For relaxation, you can lie by the sea-water pool on the sun deck, or walk down a few steps to the sandy beach below. The hotel has a jewelry store and newstand/souvenir shop. Our concierge will be pleased to arrange theater tickets and sightseeing tours for you.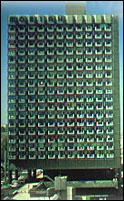 Please click HERE for on-line reservations
Sheraton Moriah Tel Aviv Hotels, Israel