Herods Hotel, Tel-Aviv
( ex Leonardo Plaza and Sheraton )
Hayarkon 155 · Tel Aviv 63453 , Israel
Please click HERE for on-line reservations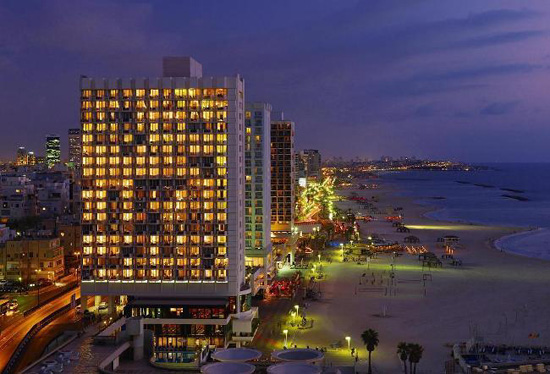 To experience today's luxury in an ambiance that evokes the glamour of Tel Aviv in the 1930s, visitors choose the Herods Tel Aviv Hotel. Ideally situated across from the beautiful Mediterranean Sea, if offers the elegance for which Herods hotels are known. Passing through the entrance, guests are transported into a time when Tel Aviv became a Mecca for culture, fashion and style.

Dining
To enjoy the culinary wonders of Israeli and international cuisine, there's no need to leave the premises. Tnuvaleh and the Hadarim Restaurant will surprise food lovers with an array of mouthwatering specials.

Despite the closeness to all Tel Aviv attractions, guests find it difficult to leave the Herods Tel Aviv as it offers a lovely swimming pool, a spa and fitness center.

Executive Room

Hotel Gym

The Herods Tel Aviv proudly offers its visitors a vast array of accommodation choices to please every taste. Each one of its 324 rooms offers an incredible balcony view that oversees the magnificent Mediterranean Sea. 207 of those rooms are furnished in the richness of the British Mandate period.

Guestroom Amenities include such standards as a 32" LCD television, WiFi access, an in-room safe and around-the-clock room service. With eight styles of accommodations, every guest is made to feel welcome. At the Herods Tel Aviv, the rooms offer the lavishness of olden times and the modern amenities that travelers cherish most.
Please click HERE for on-line reservations
More Tel Aviv Hotels
Herods Hotel, Tel Aviv
( ex Leonardo Plaza Tel Aviv Hotel, ex Sheraton )